Annotate collaboratively with us!
We also want to invite you to our group on hypothes.is — Hypothes.is is an amazing tool that allows you to annotate any web page and PDF (especially if you install the Google Chrome extension) or by typing the web address into via.hypothes.is. Your annotations can be public (for anyone with hypothes.is to view and respond to) or private to a group. It is a great tool to use with students if you want to encourage discussion in a formative, non-graded way (NowComment and Perusall are better designed for that approach). When you annotate, if it's something you want to share with us, just select the Mac & Marie group. Or go to our group page to see what we are reading & discussing to join in!
Below you will find just a few of the resources we have relied on in our growth toward student-driven instruction.
This page is always growing. Although we have grouped them into these broad categories, there are certain characteristics to resources we rely on: the development of student agency, collaboration, and self-efficacy. In our experience, these are at the heart of developing literacy (both the ability to read and the love for reading) that is liberating, and which are deeply entwined with a culturally-responsive classroom that centralizes student voices and identities and starts from a place of building on their strengths.
Disrupting the Teacher-Centered Class
8 Principles on Cognitive Load and Collaborative Learning (shared through hypothes.is for collaborative annotation) — even if you are well-versed in collaborative learning, this text is great to read
How Cognitive Load Theory can Be Applied to Collaborative Learning: Collaborative cognitive load theory (one of the resources cited in the briefer article above) (shared through hypothes.is for collaborative annotation)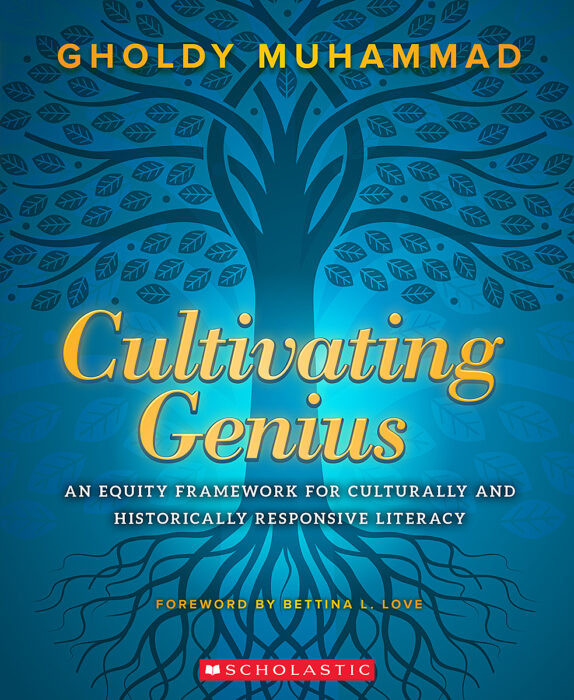 Book: Cultivating Genius: An Equity Framework for Culturally and Historically Responsive Literacy by Gholdy Muhammed – currently in the process of reading this, an feeling challenged & excited with each page.
Book: Relationship, Responsibility and Regulation: Trauma-Invested Practices for Fostering Resilient Learners by Kristin Van Marter Souers with Pete Hall (to be read next)
Book: Also on my Up-Next List because I care more about feedback than I do about Grading: Point-less, An English Teacher's Guide to More Meaningful Grading by Sarah M. Zerwin
Reading & Discussion
Book: Read the World: Rethinking Literacy for Empathy & Action in the Digital Age by Kristin Ziemke and Katie Muhtaris
Article: Student Thought and Classroom Language: Examining the Mechanisms of Change in the Dialogic Classroom (shared through hypothes.is for collaborative annotation)
Article: Meaningful Oral and Silent Reading in the Elementary and Middle School Classroom Breaking the Round Robin Reading Addiction (shared through hypothes.is for collaborative annotation)
Article: What Meaning-Making Means Among Us: The Intercomprehending of Emergent Bilinguals in Small- Group Text Discussions (shared through hypothes.is for collaborative annotation) – just the BEST article I have read on reading instruction generally and multilingual learners, specifically.
Article: Dialogic Teaching (shared through hypothes.is for collaborative annotation)
Article: Children's Perceptions of Their Reading Ability and Epistemically Roles in Monologically and Dialogically Organized Bilingual Classrooms (shared through hypothes.is for collaborative annotation)
Writing Instruction
Book: Story Matters: Teaching Teens to Use Tools of Narrative to Argue & Inform by Liz Prather – the title says it all.
Also amazing by Liz Prather: Project-Based Writing: Teaching Writers to Manage Time and Clarify Purpose – this really helped me redesign my Writing curriculum around the things I value as a writer as well as a teacher.
Book: Craft & Process Studies by Matt Glover — a great starting place, along with Liz Prather's books, if you're looking for ways to move beyond a genre-centric curriculum as the only way to teach writing.
Book: The Quick Write Handbook: 100 Mentor Texts to Jumpstart Your Students' Thinking and Writing by Linda Rief – short, useful texts, including texts written by students, with approaches for teaching them.
2 Books: Writing with Mentors: How to Reach Every Writer in the Room Using Current, Engaging Mentor Texts by Rebekah O'Dell and Allison Marchetti – a very helpful text which goes very deeply in how to teach this way. I also recommend their text Beyond Literary Analysis for how it moves teachers toward a more expansive view of this type of writing.
Book: The Write Thing: Kwame Alexander Engages Students in Writing Workshop (And You Can Too!) A Must-Have Resource for Teaching Writing Workshop in Grades K-12 – this really challenged me to take a fresh look at poetry as a source of instruction and I used poetry sooooooo much this year, no matter what kids were writing.
Article: Slay the Monster! Replacing Form-First Pedagogy with Effective Writing Instruction (shared through hypothes.is for collaborative annotation). This is one of many texts that has helped us frame our argument against boxed-in writing instruction for emergent bilinguals.
Planning a Reading & Writing curriculum:
Book: Minds Made for Stories: How We Really Read & Write Informational and Persuasive Texts by Tom Newkirk — life-altering, honestly.
Book: 180 Days: Two Teachers and the Quest to Engage and Empower Adolescents by Kelly Gallagher and Penny Kittle